Sree Asta Laxmi Spinning Mills Pvt Ltd is a part of Salasar Balaji Group which since in its foundation in 1980 has grown its business exponentially in the field of ginning, spinning and commodity exports. With 3 decades of experience in the field of cotton supply and almost a decade of experience in the spinning industry the group has successfully managed in consolidating their position nationally as well as internationally. Projections for the next few years suggest the expansion is set to continue.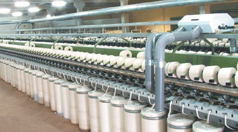 Consistency, quality and passion in every endeavour are the hallmarks of the organisation. With such set benchmarks in all areas the group continuously is in pursuit of excellence towards unparalleled reliability and growth. The group's strength apart from its quality products, are its values and beliefs in building strong and long lasting relationships with all its customers and associates for mutual growth and development.
The founder and promoter of Sree Asta Laxmi Spinning Mills Pvt Ltd and Salasar Balaji Group , Sri Mahesh Kumar Khetan sowed the seeds with the ginning unit in 1980. An expert in cotton, he later started exporting the cotton bales to the global market.
Now being the 2nd largest cotton exporter in India, the group is leader in the domestic and international market. Then in 2005, the group entered the spinning industry which was forward integration of the business. At its inception the yarn manufacturing unit of Sree Asta Laxmi Spinning Mills Pvt Ltd had an installed capacity of 18,000 spindles which has today increased to 60,000 spindles.
The company's stringent quality commitment and customer centric approach has enabled it to expand regionally and internationally over the years. Sri Salasar Balaji Agro Tech Pvt. Ltd. the export arm is one of the largest and growing companies in India to be certified as a Govt. Export House recognized by the Commerce Ministry, Government of India after it emerges successful from a strict appraisal test.
The group engaged in export of raw cotton of all varieties that grow in India. The group is also a member of various textile associations which include Cotton Association AQSIQ, Texprocil with RCMC & FIEO.
The ultimate goal of mill is to benchmark for quality for 100% Cotton Yarns. In the coming years, Management aims to increase capacities by expansion and diversification and by adding new product lines.
Our management also plans to further consolidate its integration plans by expanding its spinning unit with total 1, 00,000 spindles by end of this year.